Commercial Concrete Walkway Repair
Maryland | DC | Virginia | Baltimore | Silver Spring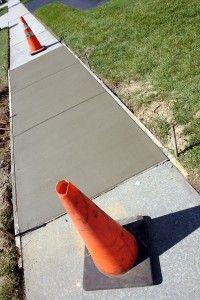 Are you looking for concrete walkway repair in Maryland, DC, Virginia, Baltimore, Silver Spring, Arlington or the surrounding areas?
Concrete restoration and repair can be a tricky task to handle, especially if you have a walkway that was stamped or designed when installed. With the right tools and precision, Concrete Restoration can bring your walkway back to life!
Continue reading to learn more about our repair and restoration options for concrete pathways.
If you have any questions or would like to speak with a representative for a free estimate, give us a call at (301) 261-4933 or click here to contact us online.

Signs of Concrete Damage
Employees, clients and customers travel upon your walkways and stairs regularly. Acting as the face of your business, it is important to ensure the walkway reflects an up kept image. Keeping the exterior of your building professional and pristine sends a positive message to potential and existing customers.
From aging to impact, the possible forms of concrete damage are endless and sometimes very difficult to pinpoint. With a diagnosis of the cause, we can proceed with the proper repair method for your walkway and steps.
Common causes of concrete damage resulting include:
Carbon Dioxide
Freezing & Thawing
Water
Poor Installation
Molds & Bacteria
Chlorides
Shock Heating
Overloading
The appropriate repair solution is dependent upon the cause of damage. If you are interested in learning more, click here for information on causes of concrete deterioration.
If you are in need of repair beyond walkways and stairs, ask about our concrete sidewalk repair services.
Quality Repair Options
When it comes to commercial repair, work with an experienced team that you can trust! Concrete Restoration exclusively offers commercial services, allowing us to understand the varying needs of your business.
Scheduling a free estimate allows us to assess the extent and severity of damage. We can then deliver you with the most efficient repair options depending upon your specific damage.
Keep in mind; if the damage on your property is due to excessive aging, resurfacing the walkway may be most cost effective. Not only will these eliminate the existing problems, your concrete will start a fresh lifecycle.
If damage is less severe, like minor cracks and splits in the cement, these weakened areas can be filled with a bonding material. This seals the gaps and restores a smooth surface to your walkway.
Even if your walkway is stamped or has a custom design, we can repair the surface to blend with your existing image.
Call Concrete Restoration Today!
If you're ready to speak with our team and schedule a free estimate, give us a call at (301) 261-4933 or click here to contact us online.
We're ready to answer any questions you may have about our commercial concrete repair services. For over 30 years, Concrete Restoration has been serving businesses in the Maryland, DC and Virginia. Give us a call and let us know what we can do for you!
Go from Concrete Walkway Repair to Concrete Sidewalk Repair
Go back to the Concrete Restoration HOMEPAGE